EDS Precision Systems, LLC is a family run business operated out of Pittsburgh, PA. We established the company in early 2016 to become the exclusive provider of the Precision Water Level (PWL). Our owner, Adam Olshefsky, grew up as a machinist prior to attending the U.S. Air Force Academy. After serving in the Air Force he started a career in information technology, which included founding a small public Wi-Fi company and a crowdsourcing website. He also worked as an IT project manager, customer relationship manager, and consultant before returning to precision manufacturing. The PWL patent was assigned to Adam in October 2016. Adam also holds PWL patents awarded in 2017 and pending in 2018.
Equipment Development Services was founded in 1972 in Schenectady, NY with the intent of engineering, designing, and manufacturing prototype machinery for industry. Over the years, they concentrated their efforts on precision measuring tools and later focused on those needed to meet the needs of the power generation industry. In 1991 they were awarded a United States patent for Electronic Adjustable Measuring Parallels (EAMP) and in 1994, a patent for the Concentricity Alignment Tool (CAT), which became a flagship product line. In 2007, EDS Measurement Systems, Inc. was founded in Rochester, NY and became the exclusive producer and supplier of the Concentricity Alignment Tools. In 2016, the United States patent for the PWL was awarded.
Equipment Development Services, EDS Measurement Systems, Inc., and EDS Precision Systems, LLC are all run by members of our family, continuing a proud tradition of providing high quality tools made in the United States combined with honest, personal customer service.
About Our Logo
Our logo is circular, to represent our heritage in the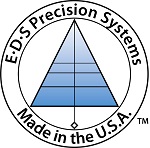 steam turbine industry. The central triangle and vertical line represent an A-frame level and plumb; one of the earliest means of measuring level. The blue represents the water used with our main product line, the Precision Water Level. PWLs measure level or flatness by creating a virtual plane using water. The spacing between the horizontal lines decreases from bottom to top, representing both the virtual plane and the ever increasing accuracy of measurements since the A-frame.