The Tightwire Alignment Tool Kit (TATK) is manufactured by Equipment Development Services in Schenectady, New York, USA.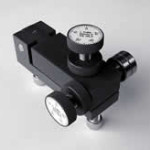 The tightwire brackets are hard-coated aluminum with stainless steel bearings and threaded rods. Knurled knobs are hard-coated aluminum with inset, calibrated dials that read 0.050-inch travel per turn.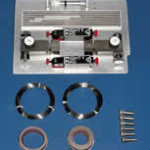 All extension rods are stainless steel and are nested in an aluminum rod holder. Stainless steel 0.016 diameter piano wire is included along with stainless steel bolts for mounting the tightwire brackets. The magnets are used for grounding the tightwire and for establishing a ground in the working area of the turbine.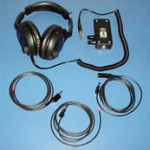 The headphones have large padded ear covers that keep out environmental noise and have separate left and right volume controls for operator adjustment. A single 9-volt battery is housed in the black plastic junction box and the box has a belt clip for ease of use. Operating instructions are provided and are very simple to implement.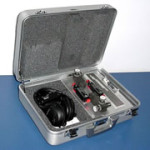 All parts are packaged into a foam lined brushed anodized aluminum lockable carrying case.